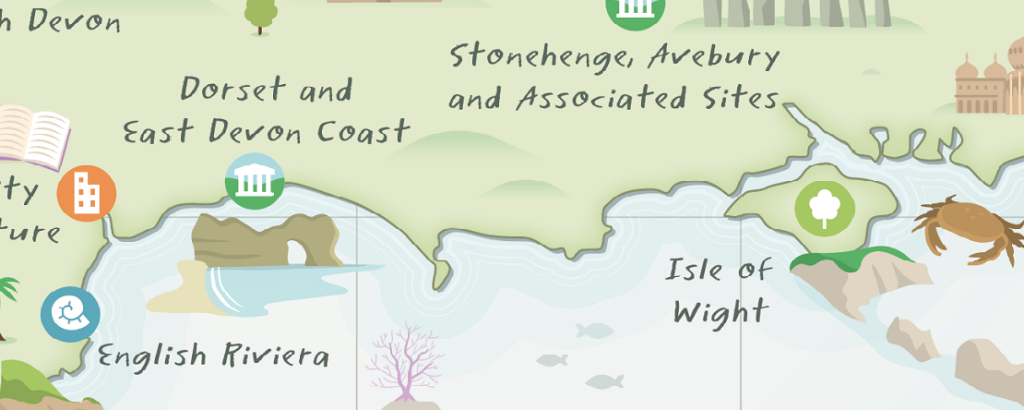 A new map shows how people can discover all 58 UK UNESCO sites — including the Isle of Wight.
The Isle of Wight UNESCO World Biosphere Reserve is featured on the newly illustrated map, now available to download for free from the UK National Commission for UNESCO.
The map — designed by the creative cartographer Tom Woolley — marks the first time that all of the Biosphere Reserves, Creative Cities, Global Geoparks and World Heritage Sites across the British Isles have been gathered together.
It shows how visitors to the UNESCO (the United Nations Educational, Scientific and Cultural Organisation) sites can immerse themselves in spectacular vistas, dive into literary or film heritage, scale mountains, uncover legends and folklore, or find out about local heritage.
The map, released online this week, includes 29 World Heritage Sites, 13 Creative Cities, nine Global Geoparks and seven Biosphere Reserves that cover 13 per cent of the UK's landmass.
Natasha Dix, the Isle of Wight Council's strategic manager for the environment, said: "As one of only seven biosphere reserves to appear on the UK UNESCO sites map, we are delighted to be able to showcase the beauty and importance of the Island to locals and visitors alike.
"We are proud of our heritage and natural beauty that must be preserved and enhanced for generations to come.
"So whether you're looking to inspire your mental wellbeing through experiencing the serenity of our landscapes, to stretch your legs and walk the coast, or just sit back and enjoy all the Island has to offer, you're welcome here. Come and enjoy!"
Designated on 19 June 2019, the Isle of Wight UNESCO World Biosphere Reserve is a large designation covering the whole of the Island's land surface and all of its inshore waters, including most of the Solent.
It has been recognised for its unique mix of plants and animals, valued environment and sustainable way of life of the people who live and work within the reserve.
James Bridge, chief executive and secretary-general of the UK National Commission for UNESCO said: "This new UNESCO in the UK map will inspire people for places to visit.
"It shows at a glance the breadth of amazing natural, cultural and built heritage designated by UNESCO as internationally significant in the UK.
"This great map highlights places to explore, on your doorstep and further afield, both the famous and those to discover for the first time."