In Ventnor Park and Putting Green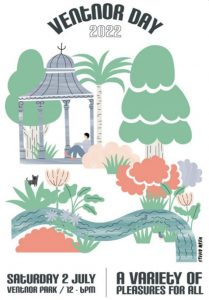 Ventnor Day will take place on Saturday 2nd July at Ventnor Park and Putting Green from 12.00 noon to 6.00 pm. The event is free. At last years event we had around 100 stalls and hours of live entertainment on two stages. This year will be even better.
Ventnor Day is an opportunity to celebrate the strength of our town's community spirit and our voluntary and community sector – with live music, performance, stalls, and food in the picturesque setting of Ventnor Park. It's a great opportunity to find out and support Ventnor's voluntary and community sector and enjoy a free fun day out.
Please see our wonderful poster designed by Lauren Fry of Studio Wren.
There are free stalls available for community and voluntary sector groups and spaces available for local business and for craft stalls at only £10.00 for the day.
We will provide a table and two chairs free of charge.
If you or your organisation would like a stall at the event, please contact Tony or Alison on 857848 or 853775 or e-mail tony@ventnortowncouncil.org.uk
Published
24 February 2022
Last Updated
2 May 2022