Fantastic Feel-Good Fab Summer Fiver Fest 2-16 July 2022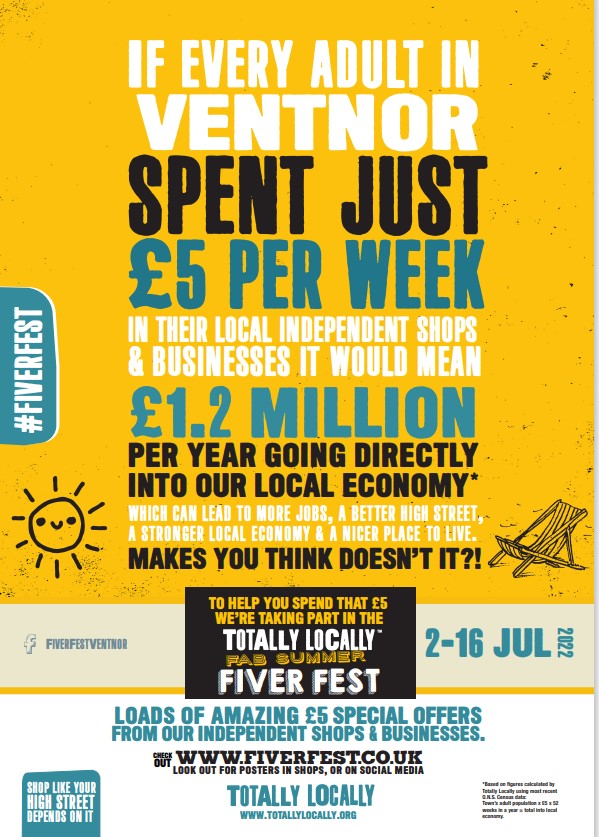 VENTNOR LOCALS AND VISITORS ALIKE ARE IN FOR A TREAT, AS THE TOTALLY LOCALLY FIVER FEST COMES TO TOWN FROM THE 2ND TO THE 16TH JULY.
Over 100 towns and thousands of businesses across the UK are joining together to bring you very special £5 offers, to highlight the contribution to the economy that local shops and businesses bring. It is also an opportunity for those businesses to say "Thank you" to their loyal customers who have supported them through the pandemic. And Ventnor is joining in.
"Fiver Fest happens three times per year," said Pascale of Blue Labelle Boutique, Ventnor's Fiver Fest organiser "and I thought it would be great for Ventnor to take part. The independent shops and businesses are what makes our town special and unique. The community support for local businesses was amazing during lockdown, but it is easy to slip back into old shopping habits now that things are returning to normal. So this is a great little campaign to say 'Our local businesses are still here, we are still offering our goods & services, and we appreciate your support. And of course we've got some great offers for you!".
FIVER FEST is a free to join campaign, devised and run by Totally Locally, a Grass Roots High Street Organisation that has been helping businesses and High Streets to help themselves since 2010 with incredible results.
Fiver Fest is based around the now famous Totally Locally £5 message: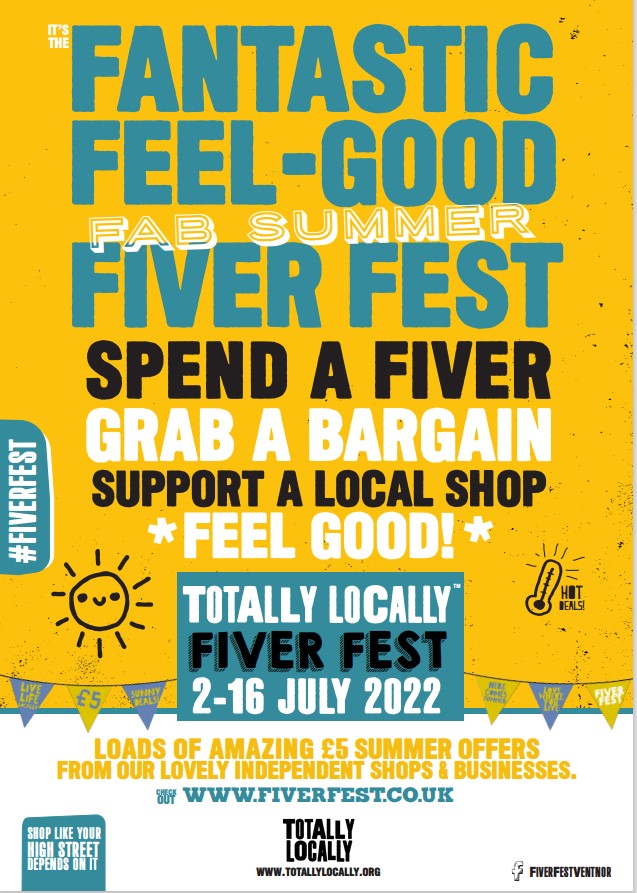 "If every adult in Ventnor spent just £5 per week in their local independent shops and businesses, it would mean £1.2 million per year going directly into our local economy. Which can lead to more jobs, a better high street, a stronger economy & a nicer place to live. Makes you think, doesn't it?!"
Spending just £5 a week in Ventnor can make a big difference to our High Streets, the "Fiver Fest" promotes this message.
Totally Locally founder Chris Sands said "Over 100 towns from the North of Scotland to the South coast of England now take in Fiver Fest events on a regular basis. It's a campaign that sees incredible offers from £5 massages, to £5 veg boxes, £5 walking tours, £5 lunch deals, £5 ghost story-telling, £5 axe-throwing session and even £5 Scottish dance lessons! Independent Business owners are really inventive with their offers, and we encourage them to also promote their neighbouring businesses offers too. Fiver Fest is about everyone working together to promote their town and high street as a whole, instead of individually. If lots of shops have great offers on, the trip to the high street is really worthwhile and fun!
Simon Waldren of Totally Locally said "We've seen huge increases in footfall during Fiver Fest times, with many businesses reporting their best shopping days outside of Christmas".
Pascale said Fiver Fest shows that a small change in your spending habits can really make a difference to our high streets. Just by diverting £5 of our weekly spend to local independents we give them a fighting chance to thrive and to keep our High Streets alive. Fiver Fest makes that easy, and it's fun!
For any independent business wishing to participate in the Fiver Fest in Ventnor, please contact Pascale via email info@bluelabelle.co.uk or messaging the dedicated Facebook page: https://www.facebook.com/FiverFestVentnor
For further information please see: www.totallylocally.org and www.fiverfest.co.uk
Contact: Pascale Edwards-Labelle
Email info@bluelabelle.co.uk
Facebook page: @FiverFestVentnor
Phone: 01983 717212