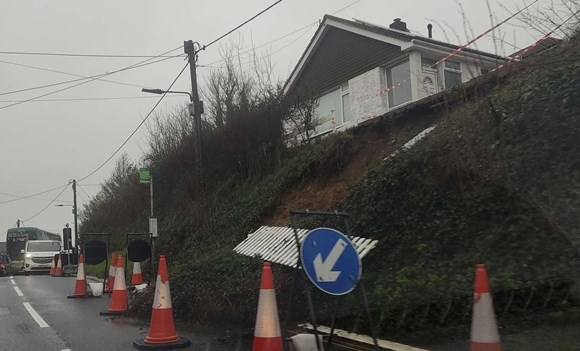 Work is underway to address the landslip that has led to the closure of a lane at St John's Hill, Wroxall.
Temporary traffic lights have been in operation since November last year when a landslip sent tonnes of debris into the highway.
As is standard in such incidents, the soil cannot be moved until a survey establishes the cause of the landslip as it is possible the fallen material is supporting the bank behind and its removal could cause further movement.
The verge is not owned by the Isle of Wight Council but the authority has asked Island Roads to undertake an initial survey to determine both how the landslip occurred and also what work is needed to stabilise the area and prevent further incidents.
That survey has been undertaken and the results are now being evaluated. Under a draft timetable drawn up by the council, the results of that evaluation should be finished before March 17 at which point attention can turn to remedial work.
Councillor Phil Jordan, Cabinet member for highways, said: "We understand the local frustrations that the temporary traffic lights are causing and we are doing what we must to ensure the whole road can be safely re-opened as quickly as we can.
"We will know a lot more about timescales once the survey results are available and, using the information, we can begin to look at solutions. When we reach this point, we will of course let the local community know.
"We are aware this is a busy road serving local businesses and residents so we will aim to complete any necessary work as quickly – and with as little disruption – as possible.
"This will involve us weighing up local factors such as the need to maintain access during the busy summer and also whether there are other street works in the area."