ground-breaking service which is empowering residents to live well and independently at home and in their own communities, has received national recognition.
The Living Well and Early Help Service, delivered by Aspire Ryde with community partners such as Pan Together, Ventnor Town Council and West Wight Sports and Community Centre, scooped 'Gold' in the transformation in health and social care category in this year's iESE Transformation Awards.
Now in their 14th year, the annual awards celebrate innovation and transformation within the public sector. iESE stands for 'Improvement and Efficiency Social Enterprise' and more information about them can be found here: https://iese.org.uk/
The service was jointly commissioned by the Isle of Wight Council and the Hampshire and Isle of Wight Integrated Care Board (ICB) in April 2022.
Since then, the community-led partnership has made a real difference to the lives of more than 2,390 Islanders, helping them to stay well, independent and connected with their local community.
This includes people living in some of the most remote areas of the Island, thanks to the launch in December of its innovative mobile support hub.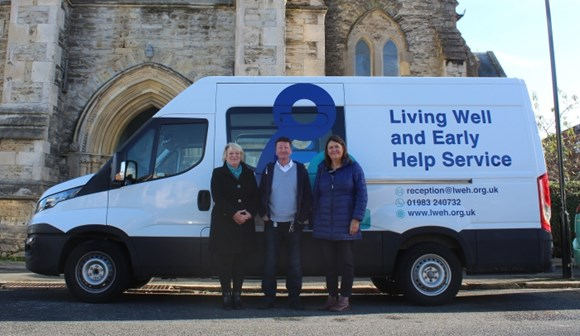 Trevor Nicholas, chief executive of Aspire Ryde, said: "This is fantastic recognition for the service that the Living Well and Early Help team are providing across the island.
"They are out in the community every day supporting people and building community resources to make a real difference to people's lives.
"The award is a testament to close working between the Isle of Wight Council, the NHS and voluntary sector partners and it's wonderful to have this recognised at a national level.
"We are really proud of our whole team who have worked so hard to achieve our vision for the service."
As well as providing improved wellbeing and more sustainable community support, the service is also helping to reduce demand on the Island's health and social care services.
Help can include anything from social contact and building people's support circles, to referrals into community groups nearby or linking them with the job centre, Carers Isle of Wight, housing support, health and social care assistance or cost of living help, to name a few.
Laura Gaudion, the council's director of adult social services, said the service was ultimately ensuring people received the right support, when and where they needed it.
"This is such a well-deserved accolade for a team that has truly put the community at the heart of their work — an outstanding service that empowers people to maximise their independence, while reducing the need for statutory interventions," she said.
Dr Michele Legg, Island GP and clinical director for Isle of Wight at the Hampshire and Isle of Wight Integrated Care Board (ICB), said: "Huge congratulations to the Living Well and Early Help team.
"This is such important work to keep people well at home and a blueprint for how all the different parts of the health and care system can work together for the benefit of our patients and communities."
Councillor Karl Love, Cabinet member for adult social care, added: "I'd like to congratulate everyone involved in the Living Well and Early Help Service.
"Our aspirations are for people to live independent lives in there own homes and to have the support and help they require.
"This incredible service is helping us to achieve just that — reaching out across our Island in a progressive, responsive dynamic manner increasing access to support for local people in their own communities."
To find out more about the Living Well and Early Help Partnership, call (01983) 240732 or visit lweh.org.uk