25 November 2022, 15:31
Isle of Wight businesses are 'Go For Growth'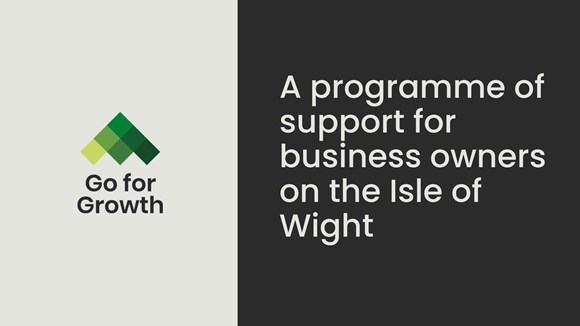 Isle of Wight Council has given the green light to a major new programme of support for the owners of local companies.
Go for Growth is a programme that provides the owners of small, independent business on the Island with access to a team of 15 specialists offering support across seven areas: Marketing and Branding, Finance and Funding, Human Resources, Technology and Digitisation, Innovation, Exporting and Strategy.
The programme operates out of the Council's recently completed flexible co-workspace (Building 41) and is managed by Digital Islands, a company specialising in setting up and running business support projects. The project has received funding from the Isle of Wight Council and the European Union through the European Regional Development Fund and aims to provide support to up to 110 businesses, for free.
Julie Jones-Evans, Cabinet Member for Levelling UP, Regeneration, Business Development and Tourism said "we have been very fortunate to secure the last of European funding for our new office, co-working and event space, Building 41, along with programmes of free business support.
"The team that has been put together for Go for Growth are experienced in their fields and the combination of south coast and island professionals just hits the spot. I encourage all small businesses to take the opportunity for this free support to grow your business and skills base."
The starting place for this support is the online Go for Growth Business Hub (go-for-growth-business-hub.mn.co) Business owners will be invited to join a selection of specialist groups, providing free access to sessions run by the delivery team.
Gavin McWhirter, the Go for Growth programme lead, and Managing Director of Digital Islands said: "this is a brilliant opportunity for anyone who is running an independent business on the Isle of Wight. We have brought together a fantastic team who can help businesses to overcome challenges, to grow, to export, to innovate, to adopt new technology or simply as a sounding board for ideas."
"It's really tough for businesses right now, so I am encouraging business owners across the Island to get in touch, and we will work out a way to provide the best help that we can, for free."
Contact Information
Zoe Van Schoor
Communications and engagement officer
Isle of Wight Council
zoe.vanschoor@iow.gov.uk